Writers come in two varieties: the kind who think that the 'writing gene' is something people are born with, and the kind who think that writing is something that anyone can do so long as he or she has the passion, the drive, and the desire to improve. George Saunders is of this latter view, which makes his advice about how to be a good writer all the more salient.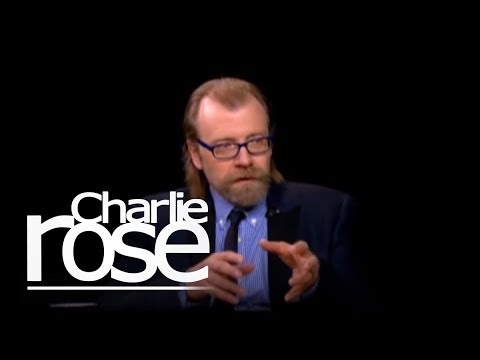 Here are some of my favorite lines from his interview with Charlie Rose:
"If the sentences are jangly, then I know how to proceed. … That produces plot, that produces steam, without that jangle, nothing gets produced at all. … You have to kind of follow where it leads. Even if that's not where you want to go, you have to be like, 'okay story, you're in charge.'"
"[Back when I was younger] I had the idea that the artist's job was to know the effect he or she was going to have and then to just dump it on the reader, as a kind of puppeteer. That doesn't really produce anything. That's condescending."
"There's this intentional fallacy. The author has a set of ideas, and the story is just the vehicle for delivering those preconceived ideas. But on the production end of it, my experience is exactly the opposite. You go in, trying not to have any idea of what you are going to accomplish, but praying you are going to accomplish something, and then just respecting the energy of the piece and following it very closely."
I love Saunders' advice for so many reasons. First is the idea that you have to listen to the sound of what you're writing. When I was learning French, my instructor told me that I had to hear the music of the language in order to be proficient in it. I had to learn the language like a song, like an art, not like a bunch of phrases to be memorized in isolation. The same is true of writing. Saunders agrees that not only do you have to hear the music of what you're writing, but you also have to allow that music to tell you what's going to happen next and how the story is going to proceed.
Damn, that's good advice.
The other thing I like about Saunders' advice is that he denies that books about ideas have to be 'vehicles for delivering those preconceived ideas.' This particularly resonates with me since I just finished Barbara Kingsolver's Flight Behavior today, which is clearly a puppeteer kind of book. I love her writing, and I love her voice, but I skimmed through 2/3 of this latest book because I felt like I was being preached to, and there are only so many hours I'm willing to spend listening to sermons.
As you continue to pursue your writing goals, I hope you keep Saunders' advice in mind. I know I will.